Report on the 2013 Mideast Lighting Collector's Meet & Lamp Show, October 22nd - 26th, 2013, Richmond, IN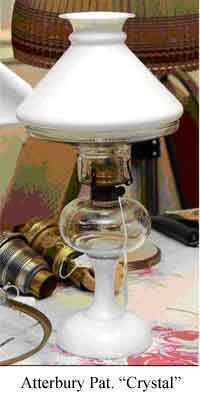 The 21st annual Mideast Lighting Meet and Lamp Show took place October 22nd through 26th at the Quality Inn, Richmond, Indiana. This show is sponsored by the NAALC and hosted by Rushlight members Bob and Laura Daniels. This year there were 124 registered attendees. The Saturday lamp show was open from 9am to 3pm. Public attendance, which has been growing year to year, was 35 people. The Rushlight Club show table featured an educational display and books offered for sale by the Club. Several books were sold and one new Rushlight membership was taken.
Items for sale at the show and during room shopping were primarily kerosene era flat wick and mantle lamps but there were also parts, chimneys and some interesting items for lantern and patented-lighting collectors. There were also some overlay glass lamps and a large solar lamp.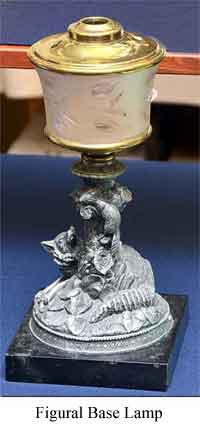 The Atterbury "Crystal", shown with an illuminator base and cone shade, was made using Atterbury,s June 22, 1875 patented process for joining the dissimilar glasses of the base and font. The patent date is molded inside the glass base.
Also seen were a cast iron, Nicol and Co., Chicago, IL, curling-iron heater made to sit atop a lamp chimney and an early figural base kerosene lamp. The figural metal base and a similar font are shown on plate 27 of the (Ca. 1870) James M. Nichols Catalog.
The Saturday evening seminar, presented by Stan Walker and John Stringham, discussed their work on the creation of a comprehensive "manual of operation and troubleshooting" for all models of Aladdin mantle burners.
---