The Rushlight Club Fall 2008 Meeting in Nashville TN
Rushlighters Swing Through Historic Nashville
by Martha O. DeBlieu
History-rich Nashville, Tenn., and area locales illuminated a whirlwind of tours, lectures, dinners, and conversations for Rushlight Club members and guests at the 2008 annual Fall meeting Oct. 3 to 5. More than country music's mecca, the region served as home to two U.S. presidents in the 1800s, site of bloody Civil War battles, and host of a 1897 World's Fair.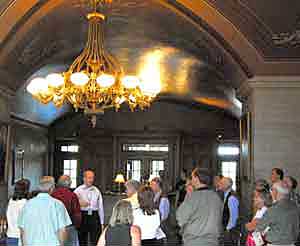 A Capitol look
An in-depth tour of the Tennessee State Capitol, led by James Hoobler, senior curator of the Tennessee State Museum, kicked off the festivities. Designed by famed Philadelphia architect William Strickland, the masterful Greek Revival-style building was begun in 1845 and completed in 1859. The building features a combination of original, later purchased period, and reproduction fixtures. The biggest original fixture - a spectacular Cornelius and Baker gasolier which was converted from gas to electricity around 1895 - adorns the legislative chamber hall lobby. Hoobler recounted that great crowds gathered at the building's dedication to witness the gas chandelier being lighted and commented that the illumination through the windows was the greatest light that they had ever seen. Unfortunately, a series of renovations in the late 1930s and 1950s resulted in some of the original fixtures being discarded unceremoniously.

Progressive Dinner Starts at Polk Home
Following the Capitol tour and a short interlude, Rushlighters jumped into shuttle vans and cars to experience a progressive dinner at three memorable locations - the James K. Polk House in Columbia, Tenn., then Rippavilla Plantation and Ferguson Hall, both in Spring Hill.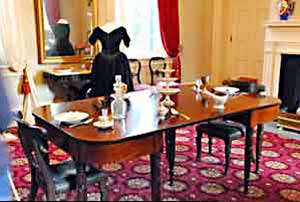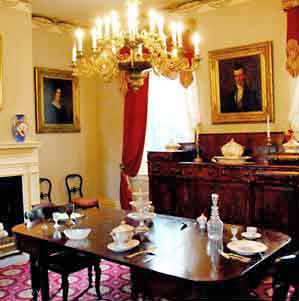 The 1816 federal-style James K. Polk House, the 11th president's only surviving residence, dished up significant artifacts - including furniture, silver, china, clothing, and White House and election memorabilia -- along with appetizers. The most interesting example of early lighting was a gasolier Mrs. Polk purchased in New York before returning to Nashville. She had it converted to candles because she disliked the glare of gas. Interestingly, gas lighting was installed in the White House during Polk's administration.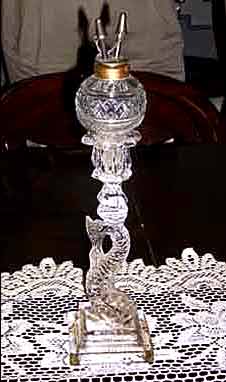 Rippavilla Plantation
Rippavilla Plantation - the next stop - offered family heirlooms, interesting architecture, and historical repast along with the main course of barbecued chicken and Southern trimmings. Built between 1851 and 1855 by prosperous planter-businessman Confederate Major Nathanial Francis Cheairs to stand "at least 100 years," the elegantly columned brick-based structure housed both Union and Confederate army generals during the Civil War. Every room is restored to an 1860 appearance, except the 1920's-designed sunroom. Notable among the furnishings was a cut glass peg lamp with fluid burner set atop a Sandwich dolphin candlestick.


Ferguson Hall
Finally, Ferguson Hall, a Greek Revival plantation home finished in 1853 for Nathaniel Cheairs' brother Martin, set the stage for murder and intrigue along with dessert. Dressed in Civil War-era garb, property manager Laura Edmunds and husband Bill hosted the event with Bill relayed the tale of reputed womanizer Gen. Earl Van Dorn, who used the home as his headquarters in 1863. Rumored to be having an affair with a local physician's wife, Van Dorn was found dead with a gunshot wound to the back of the head soon after the doctor found out. A pre-Civil War pistol found in an upstairs bedroom wall during renovations, blood stains, and bullet holes were displayed proudly.


The Hermitage
Saturday morning featured a tour of The Hermitage, a cotton farm dating back to 1780 and President Andrew Jackson's home since 1804. The property includes a log farmhouse where Jackson and his wife Rachel lived until winter 1820-21, when they moved into a Federal-style, two-story brick mansion they built. Jackson had the home rebuilt into the Greek Revival-style building that stands today after the original was seriously damaged by a chimney fire in 1834. He lived there until he died in 1845. The 1,050 historic area that Jackson owned when he died features a museum, formal garden, fruit trees, a vegetable garden, two springs, and 32 historic buildings. Members explored other attractions that afternoon or attended the club's board meeting.


Rushlight Dinner: a feast for eyes & more
Saturday's events wrapped up in Springfield where James Johnson and Geoffrey Butcher graciously opened their 1890's elaborately decorated home for viewing and hors d'oeuvres, followed by a catered gourmet feast. The eclectic houseful collection of mid-19th to early 20th century antiques included such interesting lighting as a pair of moderator lamps. Lamps loaned by Treasurer Larson Mick and his wife Diana, both of whom spearheaded planning and arrangements for the Nashville area meeting, illuminated the dinner. Other show-and-tell items included Keith Letsche with a wall gas bracket from the Dec. 31, 1879 Menlo Park, N.J., illumination which Edison had wired; Don Schoenly with several wick trimmers; Bob White with a hot blast Dietz lantern with red globe; Mark Brown with a computer show of Belmont Mansion's lighting; Robert Falvo with an interesting brass lamp.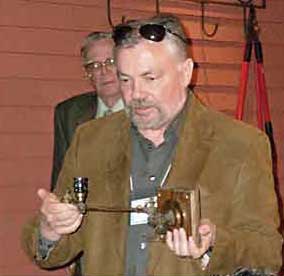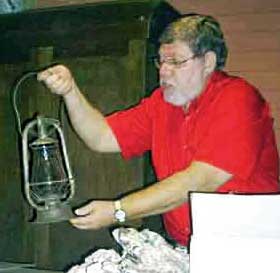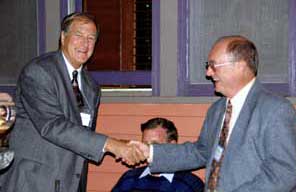 The dinner included Peter Gregory passing the figurative president's gavel to Don Schoenly. To much applause, Don accepted the post, thanking Peter for his leadership and guidance. After a hearty hotel breakfast buffet Sunday, several members traveled to view the Micks' lamp collection at their Signal Mountain, Tenn., home to wrap up a fabulous weekend.

---