Corning, the Crystal City, Hosts Tri-Clubs' Joint Meeting
Spring 2011 Rushlight Club Meeting Report
by Martha O. DeBlieu (with contributions by Gwen and Paul Johnson)
Lighting of all shapes, sizes, functions, and origins shone for members of the Rushlight Club, the Historical Lighting Society of Canada (HLSC), and the Night Light Club at their joint 2011 joint meeting, April 29 to May 1, in Corning, NY
Illustrated talks on hidden lighting treasures of the Corning Museum of Glass, early patent miniature nightlights, and North American acetylene gas bicycle lamps extended members' expertise. The event also featured room sales, a silent auction, a show-and-tell session, and general networking throughout the extended weekend. Over the weekend, many attendees visited the area's renowned Corning Museum of Glass and the Rockwell Museum of Western Art. Some added to their collections at a special pre-conference Roan Auction in Williamsport, PA.
Corning Museum's Lighting Gems
Following a brief welcome from HLSC President Joe Barton, Jane Shadel Spillman, Corning Museum of Glass Curator of American Glass and a Rushlight member, opened the joint session Friday night with a slide presentation of the museum's lighting collection, including some items not yet on display. The collection spans centuries -- from an early rare Roman "cage cup" glass lamp (300 A.D.), one of 12 such pieces in the world, to a wide array of European glass and crystal candleholders, candelabra, chandeliers, whale oil, camphene, and kerosene lamps. Early 20th century electric Tiffany and Lalique lamps and chandeliers round out the collection.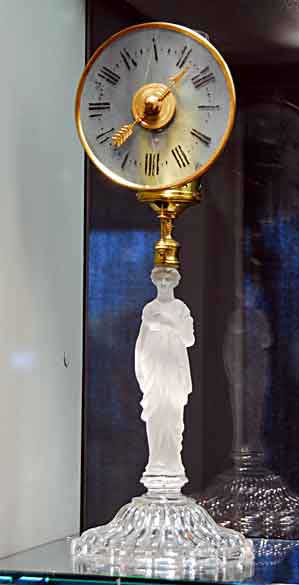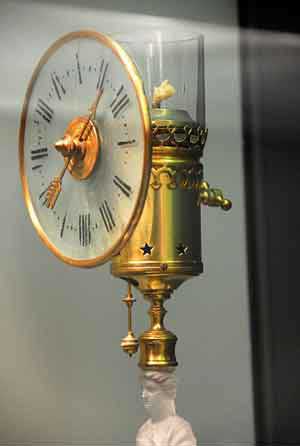 Other museum highlights include Roman blown glass "blowpipe" oil lamps (to 600 A.D.), Islamic candle lamps, lamps manufactured by the Boston and Sandwich Glass Co. and the New England Glass Co., whale oil lamps with original burners and shades, a William Brooks English Argand lamp (1829-30), a Ripley double (marriage) lamp with match holder and lid, Mt. Washington and Pairpoint lamps.
While 80% of the museum's collection is American made, Spillman noted of special interest a French combined night lamp and clock dating back to 1870 and a 10-foot tall 1883 English standing lamp in clear glass and an immense dark blue-green glass chandelier dating to 1870-1890, both made by F. & C. Osler, Birmingham.
Jane also arranged for the meeting hotel to display a miniature lamp collection that had been donated to the museum.
Fast and Furious World of Nightlight Production
Using advertisements, patent data, and actual lamps, Bob Culver, President of the Night Light Club, traced the quickly evolving history of "Early Patent Night Lamps of the late 1870s and early 1880s" in a riveting Saturday afternoon program.
Little Harry's Odorless Safety Night Lamp, patented March 22, 1877 and manufactured by L.H. Olmsted in New York, started the competitive streak in production. Less than a month later, on April 12th, "The Little Pet Night Lamp" debuted, followed by "The Little Wonder". On May 3rd, Plume and Atwood unveiled the "Little Banner Night Lamp." Olmstead filed a revised patent on May 1, 1877, that was issued May 15, 1877. Immediately, F.H. Lovell & Co. responded by releasing the "Firefly with ratchet burners" a month later.
Culver noted that it was tough to distinguish manufacturers from distributors, even in the ads in the Crockery and Glass Journal. Both used their ad copy to outdo their competitors, with new lamps appearing weekly, monthly, or even daily. In some cases, lamps were sold before patents were approved. Lamps went through numerous permutations. Even the original "Little Harry's" night lamp became available with a bracket or a reflector and in clear, cobalt blue or teal.
The "Little Gem" kerosene oil night lamp, distributed by Samuel Clark of N.Y., began being issued for a very low price. Subsequent lamps had names like "Little Crown," "The Twilight," "The Toy Stand Lamp," "the Wide Awake," the "Matchless Night Lamp," the "Little Matchless Wonder," "the Improved Matchless Night Lamp," "the Magic Brass Lamp," "Baby Lantern," Union hand lamps, "Time-Indicating Night Lamp," "The Empire Lamp," "The New Parlor Night Lamps" and others. The names of many were embossed along the font, while some - more scarce -- were on the chimney. Some lamps had little white shades, which today are worth more than the lamps because they are hard to find.
In 1878, C.S. Raymond and Co. manufactured night lamps under six different names - Vesta, Imperial, Wonder, Brilliant, Crown, and Favorite, and a miniature student lamp. Lovell and Co.'s miniature finger lamps came in different colors – clear, milk, and cobalt blue, as did other lamps. The "Nutmeg Lamp" was produced for 50 years, starting in 1888, longer than any other lamp on the market. It came in clear, milk, cobalt, amber, and cranberry. Plume and Atwood produced a common lamp, the "Little Duchess", in which the font is held in place in the metal holder by a spring. In other night lamps, the font screwed into the base metal holder. At one point, 13 different night lamp manufacturers were operating at the same time within a half-mile radius in New York City, which Culver pinpointed on a map.
Culver suggested the following resources for more on these lamps: Miniature Lamps by Frank and Ruth Smith, Miniature Lamps II by Ruth Smith, and Miniature Victorian Lamps and Miniature Lamps of the Victorian Era, both by Marjorie Hulsebus. Collectors also can more easily research lamps, he noted, since patents can be found online through the U.S. Patent Office website, as well as though www.google.com/patents.
All About Acetylene Gas Bicycle Lamps
In another Saturday session, Chris Brooks, author of All About North American Acetylene Gas Bicycle Lamps, shared how changing technology led U.S. lamp manufacturers also to produce bike lamps.
Brooks briefly summarized the history of candle and kerosene lamps. He then related how Thomas Carbide Wilson's discovery of how to make calcium carbide cheaply led to its use in early lighting, including wide use of carbide bicycle lamps by the early 1900s and also for mining lamps. Edward Miller's first commercially available bicycle lamp in 1895 featured an acetylene gas generator. It was followed with what Brooks termed "the first, true American lamp," the Chicago-based Turney Illuminator Co.'s popular Turney solar gas lamp patented in 1896. Four to six million of those lamps were sold.
Brooks further described the appearance and operation of the various lamp configurations of burner, water tank and carbide chamber. The benefits and drawbacks of the various configurations were reviewed. The conventional lamps proved to be the best and most practical.
Solar: Carbide chamber directly below the burner with water tank (gravity feed) behind.
Sandwich: Water reservoir is (sandwiched) between the burner above, and the carbide chamber below. (gravity feed)
Inverted sandwich: Carbide chamber sandwiched between water tank below and burner above. The water is wick fed up to the carbide chamber.
Hydrostatic: The water reservoir surrounds the carbide chamber with the burner above. The generated gas pressure limits the flow of water (gravity feed) making the gas generation somewhat self-regulating.
Conventional: Water tank above carbide chamber (gravity feed) with tank/carbide chamber behind burner.
Projector: The burner is separate from the water tank and carbide chamber. The generated gas is conveyed to the burner by a tube or hose. This is much like the "Conventional" but with separate burner mounting.
The early lamps were marketed by ads with a heavy art deco influence. Functionality, design, and stability were poor, and the lamps gave off poor light. Similar designs were used across the many manufacturers. Listed below are some manufacturers and production dates.
Solar - C.M. Hall Lamp Co., Breckenridge, and Helios;
Hydrostatic -Admiral Lamp Co., Automatic, Veritas Automatic by Frederick W. Hedgeland, White Manufacturing Co. (1898), the 6½ inch "Wizard" (1896) for export to France;
Conventional – Turney, Hine-Watt Columbia (1899-1922), Criterion, Brilliant Gem, Matthews and Willard Mfg. Co. (1896-97), Brilliant Search Light Duoplex (1898-99 to 1903), Rainbow (1898-1900), Schumacher, Frederic E. Baldwin Gas Lamp's Full Moon and Crescent Lamps, distributed by Herman Booker and Co., and Twentieth Century Lamp Co.
Members Share Unique Finds During 'Show and Tell'
Member Joe McCluskey with a rare Cornelius and Baker kerosene lamp patented 1858-59 featuring a central draft with deflector similar to what one sees on solar lamps adapted for kerosene, plus a blue cut-to-clear Sandwich style overlay glass font lamp with marble base, brass fittings, and Dietz burner.
Brett Ewald with a Chamberlain kerosene lamp reissue 1867, with cotton batting and liner inside; a Reighard filler opening patented July 1861; an Atterbury clear swirl rib font glass kerosene finger or hand lamp with scallop lace base embossed 1876 patent; and a railroad or nautical whale oil burning lantern by Rowe Kelly and Co., Rochester, NY, patented Jan. 23, 1855.
Val Lister with a kerosene burning lamp with clear glass font, white connector, and white glass base, thought to date to about 1858; a miniature kerosene burning lamp with an opalescent vine design and "superior" glass; a miniature amethyst lamp; and what some thought was a brass cigar lighter with a drawer for matches.
Peter Brickell with the anatomy of a French pewter pump lamp, 1830-50.
Eldon Grant with an Electrolite domestic silver carbide lamp made by Edward Miller & Co. of Meriden; and a finger lamp with an automatic shut-off from 1890-1900.
Heinz Baumann with a pair of early 1840s table model solar Argand lamps.
Silent Auction and Saturday Night Banquet
Among the many items in the silent auction were several early kerosene burners. The Tisdel & Nash patent no. 37987, March 24, 1863, shown here on a ratchet burner, is a chimneyless burner attachment designed to slip over the wick tubes to convert burning-fluid burners to kerosene. The L.C. White, patent no. 56131, July 3, 1866, is a chimneyless burner for kerosene. Also seen was the "New Calcium Light", B.F. Adams, patent no. 106303, Aug. 15, 1870, the wick knob is marked "P&A MFG Co PAT AUG 16/70".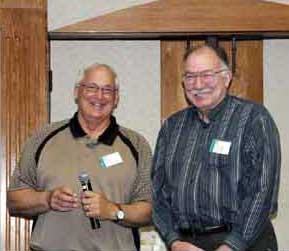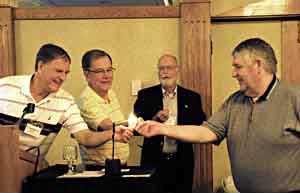 The Saturday night banquet activities included the introduction of Tom Logan, HLSC president, by outgoing president Joe Barton.
Rushlight President Larson Mick presided over the traditional lighting of the rush by the meeting planners (left to right) Don Schoenly, Bob Culver and Jay Kivell, which concluded the Joint Meeting.
---