Report on the 31st Eastern Lighting Collectors' Meet,
April 2nd, 3rd, and 4th 2009 in Somerset PA
Room Sales
The 31st Eastern Lighting Collectors' Meet, hosted by Tom Small and Tom Millman, was held at the Quality Inn of Somerset, PA. Show attendance was 179 people with a good number of new faces being seen this year. The arrival of early room shoppers began Tuesday with ever larger groups arriving on Wednesday and Thursday. Early room sales were reported as very good and room sales on Friday were even busier with people often seen carrying new-found treasures in the hallways.
Lamp Show
The Saturday lamp show opened at 1 pm with a record 54 tables of items for sale. Tables were piled with lamps, shades, parts and accessories and vendors reported generally good sales. The Somerset show attracts collectors and dealers from distant states and Canada. People traveled from Iowa, Illinois, Florida and Georgia in addition to the many that came from Pennsylvania and nearby surrounding states. John MacLean from Texas got the award for the longest distance of travel.
Hospitality Suite
Tom and Linda Millman hosted the hospitality suite serving up good humor and cheer in addition to keeping the hospitality room tables well supplied with food and drink. A hearty "thank you" to the people who brought home baked items for the hospitality suite and to those who donated raffle prizes for the show.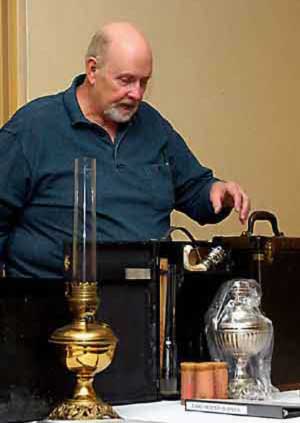 Saturday Evening Seminar
The Saturday evening program was given by Tom Small and Jim Christner. An array of 17 lamp sales cases and their contents were displayed and discussed. The sales cases were used during the first three decades of the 20th century by companies selling mantle lamps. Aladdin cases covering model 1 thru model 12 and their contents including wicks, mantles, chimneys, and ephemera were shown and differences between the cases were discussed. Sales cases and their contents from Canchester, Index, Lumo, Saxonia, Thomas and illustrations of two different Contraco cases were also displayed and discussed.

Among the items on display was a rare "mint" condition Canchester table lamp with several original mantles and a circa 1929 photograph showing Aladdin Model 12 lamps and parts in a store window display.
The 32nd Annual Eastern Lighting Collectors' Meet is scheduled for April 8th-10th 2010 in Somerset, PA.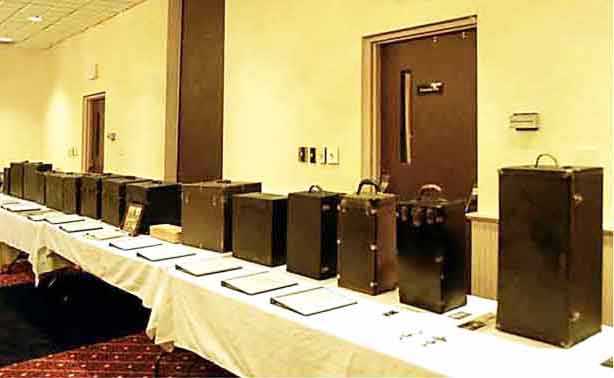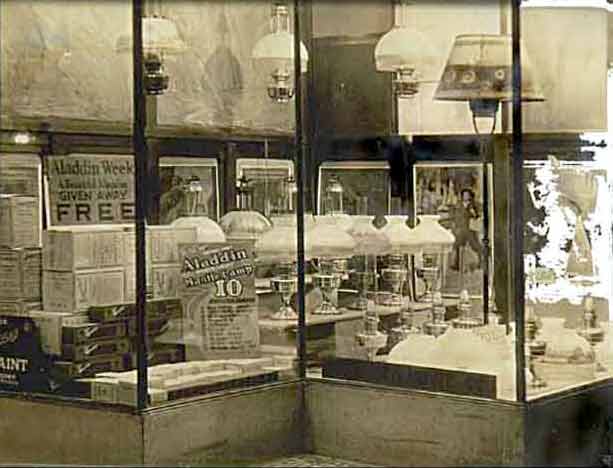 ---