Report on the Rushlight Regional Get-Together, Glen Ellyn, IL
Jan. 29, 2011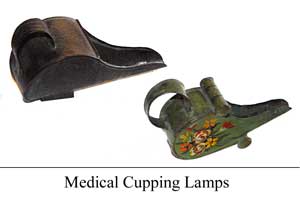 Twenty-one Rushlighters gathered at the home of Lee and Judy Marks on January 29, 2011. Lee and Judy are long time Rushlight members and Dealers in Early Lighting and Americana. In addition to the wonderful lighting examples beautifully displayed in their home, we also saw great examples of painted furniture, baskets, fireplace items and pottery. The main focus of the event was Show and Tell, and Ask, along with seeing friends and getting to know new ones. After a delicious lunch of baked ham, salads and fabulous deserts everyone was ready to view the interesting lighting devices that were brought for Show and Tell.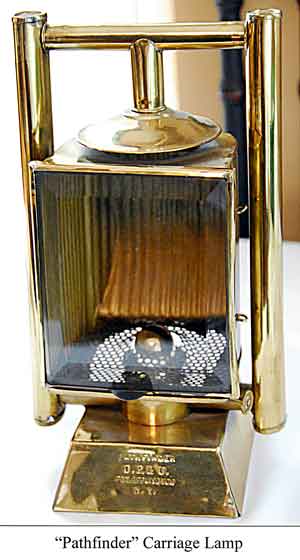 Don Schoenly brought 2 (medical) Cupping Lamps, documented as such through his research. Mel Zaloudek showed an unusual large brass "Pathfinder" carriage lamp, T. Parish 1887 patent no. 372,325, along with a pewter lamp with the J. Newell patent burner. Bob Jacobsen showed his tin whaling torch signal lamp, recently documented as such by Peter Gregory. Keith Letsche showed a recently purchased Edison light bulb. This very rare prototype came with documentation indicating the date when the bulb stopped working; this information helped Edison learn how long the filament would last. John Shallcross brought a pair of beautiful brass whale oil lamps bought on E-Bay, one in December and one in January but from the same dealer. Go figure! In addition Philip Asprooth had some wonderful brass candlesticks and explained the characteristics that identify them as American candlesticks.
We also welcomed new members Holly and Neal Clayson. Holly showed a catalog from an Art Show in Paris. Each of the paintings included a lamp and at the show the "real lamp" was displayed with each painting. We were surprised but happy to learn that the lamps were from the shop of Rushlight Club member Monsieur Ara. There was some discussion about the pros and cons of purchasing items on E-bay but overall people seem satisfied with this method of purchase. A few items had questions about their authenticity but the owners seemed to appreciate people sharing their opinions and knowledge about these items. All in all it was a fun day; educational too.
Next year's meeting already has a host which means it will be year 4 for this regional meeting.
THANKS Lee and Judy for your hospitality.
Donna Schoenly
---