The Dietz & Company Illustrated Catalogue of 1860 [sic]
With a New History of Dietz and Victorian Lighting
by Ulysses G. Dietz
First Edition 1982, Softbound, 123 Pages, Illustrated, 18 1/2 by 11 7/8 Inches
Published by The American Life Foundation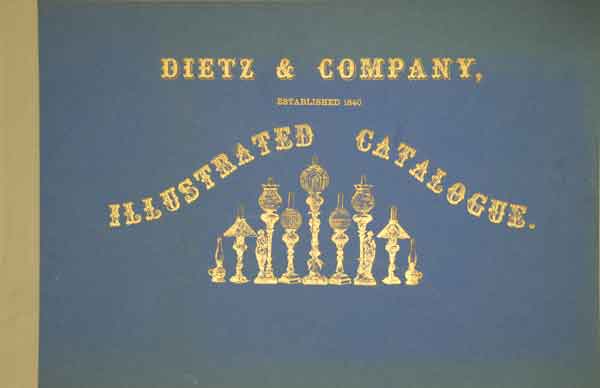 The Dietz Catalogue of 1860 includes a 16 page overview, by Ulysses G. Dietz, of Victorian lamp and girandole designs in the context of American culture of the period. Also included is an 8 page history of the Dietz Company and a bibliography.

The Dietz & Company Illustrated Catalog represents the highpoint in the Dietz company history, and is the only known extensive pictorial evidence of production between 1855 and 1870. There are 39 Plates, 6 of which are in color, and two additional plates showing complete lamps, lamp components, burners and lamp accessories. There is also an cross reference of items offered in the Dietz and Russell and Erwin catalogs. This catalog is one of a handful of historic documents which depict a broad range of the kerosene lighting of the period.
The Dietz Catalogue of 1860 is available to Rushlight Club members for $25.00 plus shipping and to non-members for $45.00 plus shipping. The shipping charge for U.S. orders is $7.50. Shipping to Canada and overseas will be calculated individually, please write or e-mail for a quote.

Checks should be in U.S. funds and made payable to "The Rushlight Club".

| | | |
| --- | --- | --- |
| | Orders should be sent to: | Pat Howell, Treasurer |
| | | 415 Walnut St. |
| | | Elmhurst IL 60126 USA |
| | | |
| | | e-mail: treasurer@rushlight.org |
Please allow 4-6 weeks for delivery.
---
Rushlight Club Publications Available